Which type of braces are right for you?
View All Types of Braces

Different Types of Orthodontic Braces
Patients are family to us.
We believe in great Orthodontic care.
Dr. Andy is a leader in orthodontics, with cutting-edge technologies and extensive education. Meet Dr. Andy today!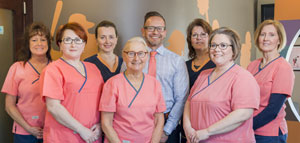 We want you to feel special and comfortable when you visit us! Meet our wonderful team of passionate, enthusiastic hygienists.
For your comfort and convenience, we've updated our office! Take a moment to take a tour of our office through photos and info.
What our patients say about us.
We interviewed at least four or five orthodontists before choosing "Dr. Andy". I wanted someone who truly cared about his patients and would explain our options and expectations. We definitely made the perfect choice for our family...
The Wischmeyer Family