Our Team of Orthodontic Specialists
Irena
Irena is our office manager and has been in the dental field in various capacities as a chairside assistant and EFDA since 1986. She is originally from Poland and speaks Polish, Russian and Ukranian. She studied at the University of Warsaw in Poland. Irena loves theater, art, travelling, yoga, pilates and swimming along w co- parenting our Milo.
Kim
Kim has been in the dental industry since 1994 and has worked chairside with Dr Andy since 2002 as his orthodontic assistant. Kim's favorite part of her job is getting to know our patients and seeing them through their orthodontic journey. She enjoys spending her free time travelling with her husband and spending time with her children and grandchildren.
Jackie
Jackie began working with Dr Andy as his orthodontic assistant in 2002 and has been in the orthodontic field since 1994. She enjoys spending time with her husband of 46 years and her two black English labrador retrievers, Jasper and Shotgun. She also loves cooking and gardening.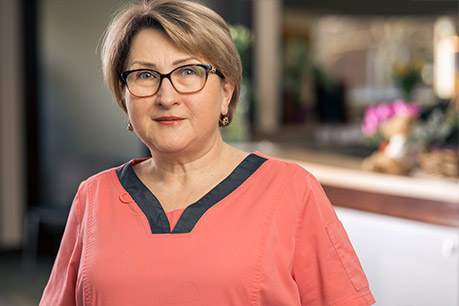 Nataliya
Nataliya is proud to has completed English as a Second Language (ESL) at the ATS Institute of Technlogy. Before joining Dr Andy's team, Nataliya worked as a caregiver. Nataliya is multilingual and speaks Ukranian and Russian. She loves taking care of patients. She enjoys baking, cooking, gardening, travelling , and volunteering in her community.
Oksana
Oksana graduated from Tri-C with a Registered Dental Hygiene (RDH) certification. She has worked with Dr Andy since 2013. Oksana speaks fluent Ukranian and Russian. She enjoys spending time with her family and friends. Her hobbies include swimming, dancing and baking.
Trish
Trish has been in the dental field since 1990. She joined Dr. Andy's team in 2016 and is a front desk receptionist. She is married and has three grown up sons. When Trish isn't working, she is spending time with family and friends. She enjoys working out with her friends and and travelling abroad when possible.
Christine
Christine started her dental career in 2004 with Dr. Andy and continued on as a dental hygenist. In any downtime, she enjoys spending time with her dog, being outdoors, working out and traveling.
Taylor
Taylor is our front desk receptionist. She is blessed to work with Dr. Andy and his wonderful team. She was born and raised in Parma, graduated from Parma Senior High School and Normandy's dental assisting school. She is currently pursuing her dental hygiene degree. In her spare time, she enjoys going to the gym and spending time with her family and friends.
Natalia
Natalia has been part of the team since 2022. She is bilingual and speaks Ukranian. She loves working in orthodontics because each day is interesting and each day is a learning experience. Among her favorite hobbies include making flower bouquets.
Lazar
Lazar is a Registered Dental Assistant (RDA). He is currently pursuing a pre-dentistry program. He is also bilingual and speaks Serbian. His hobbies are playing multiple sports and travelling.
Milo
I was born in Sept of 2020 and became part of the Skorobatckyj Family in Nov when I weighed 2 pounds. Immediately I became part of the Skoro Ortho Family as well. One of my favorite past times is greeting new patients upon their first exam and sit on their lap with my toy monkey if they are comfortable with me doing so. I am extremely social and friendly. I love to play ball and take very good care of my toys. I am told I am a loud snorer when I sleep. I love children and love long walks w Dr Andy on most days. I do enjoy travelling to the beach where I can roam free and take in all the new sights and smells, although im not a big swimmer.
Read what patients say about Dr. Andy!
Dr. Skorobatckyj has made a huge difference in my daughter's life.She went from not ever wanting to smile to showing her teeth in pictures to having a big beautiful smile for all to see. I will be forever grateful for bringing her smile back! What makes Dr. Skorobatckyj a great orthodontist is his personality. He is patient, kind and easy to talk to with questions along the way. I have recommended him to many people and will continue to work with him with the rest of my children.
Stephanie (Parent of Patient)